The kitchen is a great living space to enhance for more family bonding time. Get the kids involved with a designated prep station and increase storage so you can minimize trips to the grocery store.
Nowadays, homeowners consider the kitchen as the center of home interaction. Consequently, kitchen remodeling feels like a big project to take on – from shortlisting the design, considering your family's needs and hiring the best design and building company for quality craftsmanship. Working with a full-service home remodeling company will connect you with reliable project managers who will make your kitchen remodel project a smooth process from beginning to end. All in all, if you are looking to add elegance to your home without missing out on practicality, then contact our team of designers at TNT Design & Build who will build the kitchen of your dreams for your family to enjoy.
Why opt for a kitchen remodel?
xSince the kitchen is the most visited room in your house, it needs to appeal to your taste, preferences and resonate with your personality. Therefore, you need to address why you are opting for a remodel before you delve into planning and designing your kitchen remodeling. According to recent studies, common reasons why homeowners opt for kitchen remodeling are:
70% of people preferred renovations to their home rather than moving out.
Only 10% of people are serious in their consideration to buy a new home.
A full kitchen remodel is expected to offer a 79.3% return on investment on average.
There can be a variety of reasons, but ultimately, people are tired of seeing tight or cramped up space, lack of storage, reduced functionality, and out-dated appliances in their kitchen. If any of those qualities apply to your situation, then it's time to look for kitchen remodeling services.
You will love your new, stylish kitchen!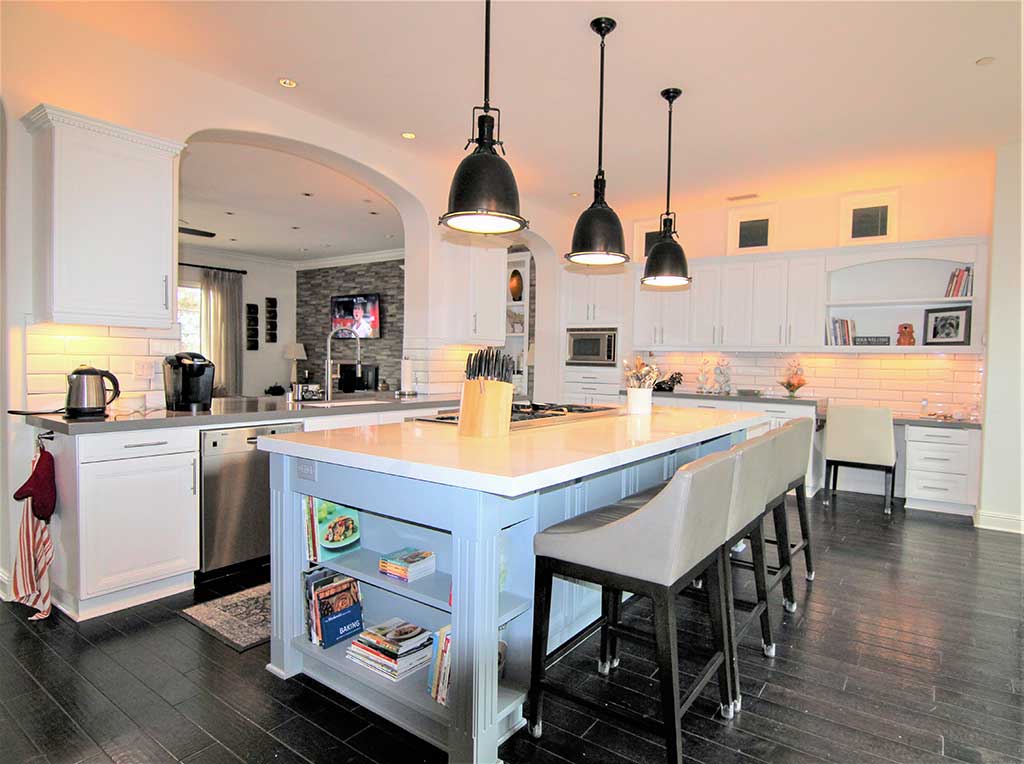 When it comes to re-imagining your space, we have got you covered. Whether you use it for daily cooking needs or hosting a full-fledged party, the kitchen is the most gathered-in room for the modern home. So, why not renovate it with the help of professional kitchen remodelers? All the more reason to make this well-visited place its best version yet. When it comes to a kitchen remodel, we recommend starting with the basics. For TNT Design & Build, we approach kitchen design by combining the client's preferences, as well as prioritizing functionality. Finally, we visualize the results with the help of 3D design to paint a better picture of the final look of your renovated kitchen.
With our design software, clients have the creative flexibility to choose the layout, seating, storage, lighting, appliances and much more. Our professional team of designers and builders will help you select the right materials and styles for your kitchen that surpasses your dreams.
We make your vision a reality!
One client has recently worked with TNT Design & Build for their kitchen remodel. Here is what they have to say about our kitchen remodeling services and work ethic:
"We chose to use TNT Design & Build for our kitchen remodel and everything was done beautifully, much quicker than we would have anticipated. Everybody that came in to do work was very respectful, hard-working and they were so fast. We are so happy with the results, and yeah it looks great!"
Take away points from their kitchen remodel:
Natural light can drastically improve the look of your kitchen.
The open shelves are worth considering along with custom storage.
The wall windows will provide extra lighting.
A cohesive look and backsplash are also something that changes the entire look!
5 Design Ideas from Pros for Your Next Kitchen Remodel
1. Open up your kitchen
The worst feeling in a kitchen is feeling cramped with not enough room to move around. A poorly designed kitchen can feel claustrophobic with the overhead storage cabinets towering over your head in a tight space. Rework your kitchen layout with design professionals who can optimize the flow of your space and better direct traffic. Sometimes, this will involve a small bump-out to make space, but they are equally skilled at working with the current floorplan to mind your budget. Our designers are experts in determining a flow that gives every family member freedom to move simultaneously and freely in the kitchen. A design tip from our professionals is to convert the top cabinets into open storage. Open shelves can make a kitchen feel less bulky and minimize the space needed for cabinet doors to swinging out.
2. Give your backsplash a makeover
Not all kitchen elements have to be minimal to look impressive. The backsplash is the most important element that allows you to really personalize your kitchen remodel. For those who are looking for more abstract, artful elements for their kitchen, play around with colors and choose from a wide range of textures. Or for a rustic look that is farm-inspired, you can go for concrete or wooden finishes to go along with the rustic theme.
Whether you prefer a crisp, clean look made with quartz or something adventurous with a pop of color like a marble mosaic pattern, the backsplash is a great avenue to unleash your creativity.
Though storage is highly regarded when redesigning, upgrading your backsplash or getting a new one is a must-have aspect in your kitchen upgrade.
3. Cabinets to maximize storage with modern finishes
One can never go wrong with added storage! Your kitchen can seem incomplete without renovating your upper and lower cabinets. Even if you have a limited budget, a professional can help you utilize innovative storage design that caters to your requirements. There are so many ways to maximize the space, from using pull-outs for easy accessibility to larger drawers at the lower level to store pots and pans. A great feature to install is a hidden coffee bar behind the door, which utilizes dead space and adds a unique aspect to your kitchen.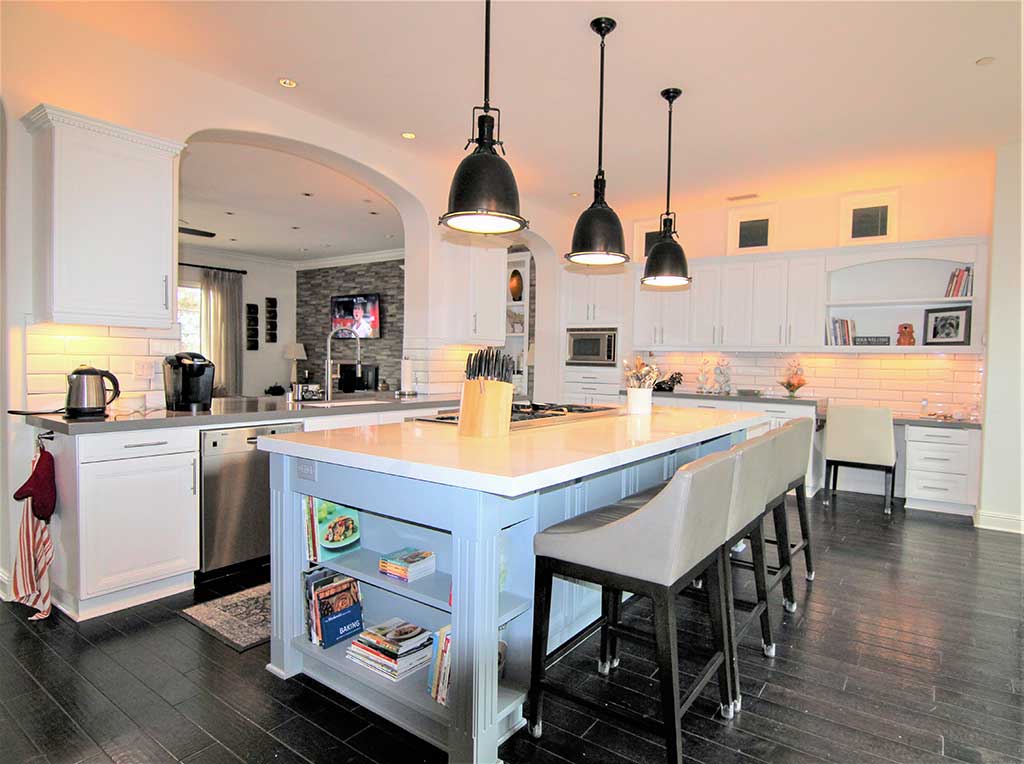 In addition, appliance panels are becoming a popular choice among homeowners for a clean and tidy look. For a seamless appearance, you can cover up the dishwasher, refrigerator, microwave, and other major appliances for a cohesive look with your custom cabinets and other elements.
4. Get the flooring right
When first visiting a place or when we walk into the room, our eyes often go down to the floor. That's the main reason why a change in flooring is a perfect way forward. A modern kitchen is not only about the layout, materials, and the way you incorporate storage options. Sometimes it is more about the finish and type of flooring. In order to make the kitchen feel like it's part of the home, it is important to consider the whole vibe and aesthetics to create a look that is unified. For instance, a modern yet contemporary look would best be achieved with ceramic tiles. Flooring may feel daunting, but a reliable kitchen remodeling contractor will make sure that the materials and labor are on schedule with your project timeline.
5. Install a kitchen island for that wow factor
Kitchen islands are the centerpiece for your kitchen and its design must be impactful. The simple way to do this is to put your dead space into use and introduce one marble countertop or any material of your choice for that magical, luxurious look. It is also important that you consider the seating and chair placement at one side for casual dining. The other side can be used for storage space where your most-used items can be easily accessed. This ensures that your kitchen island can be multi-functional while making the most of the space in the kitchen.
These ideas combine the best in functionality and aesthetics to create your dream place. But consider this: redesigning your layout or making major changes in the look requires skills and expertise. As such, it's best to work with TNT Design & Build who are skilled at building forever homes for our happy homeowners.